Online flower shop with home delivery in
Almería
Online Florist Telerosa. Delivery of flowers at home in Almería even the same day. If you place your order in advance you will get better prices and the largest catalog of bouquet of flowers. Service in the whole province and Spain, quality and guarantee. If you have any question call us for free to 900264088.
* The prices indicated are valid from Monday to Friday, not holidays or special days, whenever your order is placed with the minimum advance proposed on our website.
Telerosa Florists Almería
As you know, Florist Telerosa loves flowers. And in this occasion we approach you at the floral customs of Almería.
How much do you know about this city? Do you know enough about its flora?
Do not stay with the plot and ... READ!
Cave of the 'Letreros', paintings caves, Neolithic, 4,500 years old. Do you know what are we talking about? We give you more clues ... paintings discovered by Antonio Gongora y Martinez. Little men holding… a bow? Other theories say it's a rainbow, so the man made a pact with the gods asking for an expedited shipment to protect them from floods. National Historic Landmark become characteristic symbol of an Andalusian province. It is so famous that even in some cities is painted on the houses as proclamation of good luck ... Do you already know what are we talking now? ... The Indalo, symbol of Almería.
Weddings, decoration with flowers
For this special day with many nerves and details, flowers become into one of the more necessary and indispensable symbols. It is not the same decorate that special day if we get married outdoors that if we got married in an interior. Tele Rosa today will reveal the secrets of the flowers on the day of the wedding.
The first thing the couple must to decide is whether the wedding will be outdoors (outside) or in an enclosed or church (interior) enclosure, depending on the flowers that will be of one type or another. In the interior there is more suitable for weddings roses of all colors, but especially white oriental lilies and lisianthus. On the other hand, in the outer weddings more space is given to wild or seasonal flowers and trendy colors..
According to Telerosa and other prestigious Almería, florists, ceremonies have different floral decorations as a "religious ceremony" or "civil ceremony".
Religious ceremony
In a wedding it must to repect two perspectives: the religious space and objects that have a monumental character. The flower in this religious space has to beautify the altars or the cross, decorating and never hiding. Furthermore, according to the church and parishes there is one other requirements. For example, in "The church of the Virgen del Mar" (of the most sought in the province), rules must be respected as a center place in the virgin or not put fresh flowers in the hallway. However other parishes and not only accept white color flowers. Telerosa advises brides decorate the church does not like his own field, because if you do not do this, bouquet flowers lose prominence among the floral decoration of the church.
Civil ceremony
The boyfriends from Almería increasingly request more such ceremonies for their nuptials. They are characteristic for its uniqueness and customization. The flowers can be placed on farms, beaches, gardens, castles, even in boat; if time permits. The big difference with the religious ceremony is the topic, as it does not have to respect a religious monuments and you can leave fly your imagination.
Flowers should be present in three parts of the wedding:
-The Porch mounting: on the door there are floral bows, crowns or structure announcing the event.
-The Space from the door to the stage: the ceremonial hall; no carpets, and flower petals, in an elegant way, flowers are leading us into space signature.
-The Space where the couple will sit and their guests: bridal table, banquets, lamps, baskets, gifts, chairs ...
The Wedding Bouquet
The bouquet of a wedding is one of the most important supplements in that day. The bouquet is indispensable. Depends on the personality of the bride it will be in one way or another, her tastes will be reflected in the colors and flower decorations. Do you want to know what kind of bouquet exist? Read on ...
Round Bouquets
Used in morning's wedding that focus on the freshness and naturalness or civil weddings helping complement the simple dresses. Although there are metal ornaments or within such classes, usually focused primarily on naturalness. The color is perfectly synchronized with this type of bouquet.
According to the major international schools and trends for the development of this precious complement, you should use round flowers. As an example we can mention the roses, peonies, carnations… Another option is working the rounded effect with non-rounded flowers. Another way to build it is denaturing the flower; this is achieved by removing the stem and placing all the flowers on top, leaving the round shape, but incorporating fantasy.
Fall Bouquets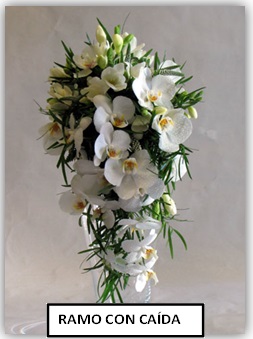 Used on brides whom give great importance to the bouquet and have a special design dress (long tail). In the flora there is flowers that they already have the effect of fall, some of them are climbing plants, bougainvillea, jasmine... The fall is done with a flower pendant, which born to down. The bouquet can enhance the same dress but also can negatively influence. The aim of this type of industry is stylized the bride, if the dress does not have cuts pronounced waist.
As this kind of flowers are usually large, it is advisable that the color is not very aggressive, because otherwise would influence the proportion of bouquet. Another option is to join a round bouquet with the fall bouquet, everything depends on the final decision of the bride.
Linear Bouquets
Characterized as bouquets of flowers with small amounts but they give a lot of strength and a main role. They are often used in sleeveless dresses, and very loud in the bottom. With this bouquet you try to smooth the top with the alignment of the flower. You need to choose linear flowers: the stem orchid, tuberose, gladiolus, calla… the goal is to get that line with different flowers grouped (the bouquet that lends itself more to pictures).
Brides, pink color:
Brides give more importance to pink. For this reason, we present some options bouquets in pink.
-Bouquets of Astromelia. They are one of the flowers most demanding, especially in summer. It is characterized as a round compact bouquet, with more than 100 flowers in the bouquet and still not be very large because of the size of the flower. To give sophisticated feeling you, it adds shine and a little fantasy.
-Bouquets of Orchid (fanelosis variety): with an intense pink like cherry. The peculiarity is in its structure because the weight of the flower is attached with a metal base, holding the weight of the flower and letting them see their beauty.
-Bouquets with other types of orchid, cymbidium: various shades of pink, the flower is worked in a more compact form, the shape of the bouquet is falling and symmetrical.
-Bouquet of Callas and Roses: in the same shade of pink is a color with contrast. It is a compact and round bouquet. To present the difference will usually put details in another color.
Flora feature Almeria
The province has one of the most biodiverse areas in Europe, because it has their own species of tundra to reach the sub-desert flora. It has endemic species, ie species Almería own or have their specific habitat within the province of Almeria. Its flora is so rich, there are currently about 1.200 taxa (families and types of flowers). Why should so much variety? It is because Almería has different types of soils and microclimates, and several wet spots in the ravines that favor the floral diversity.
These ravines are covered by species such as Anthyllis cytisoides, fine albaida ( Anthyllis terniflora) and white jarilla Almeria. In the Sierra de Cabrera there are many rosemary and aromatic plants, among them we can highlight: rosemary ( Rosmarius officialis), savory ( Satureja obovata), always yellow ( Helichrysum stoechas), the matagallo, the everlasting abode or espuelilla of Cabo ( Linaria benitoi) endemic of Almeria. With a local distribution in Mojácar unbeatable seafront ( Limonium estevei) on Rambla de Macenas.
As an impediment to keep this flora like unique in the habitat, you can find the destruction at the hands of man, starting to be a problem, since such biodiversity is unique internationally.
In Telerosa we DO IN THE BOUQUET OF YOUR DREAMS ...
…We provide you all the flowers and petals you NEED FOR THAT DAY ... it will be perfect!!
We are very close to you ... DO NOT FORGET!
Telerosa Service with home delivery in Almería and other cities:
Telerosa Online Florists, Thus we are and in this way we can surprise you
Find in this video how we prepare beautiful bouquets of roses and how we work in Telerosa Florists to offer always a home delivery service of flowers of high quality at the best price in any city in Spain.
Important days for Telerosa florist in Almería - Almería
Telerosa Florists in Almería - Almería organizes Valentine´s Day 8 to 14th February 2021. The Valentine's Day is celebrated, it is tradition to send a bouquet of red roses to couples of lovers to celebrate the day of love and passion in society. See bouquets of flowers for Valentine´s Day. See offer of Bouquet 6 Roses from 29€
Telerosa Florists en Almería - Almería organizes the day of Sant Jordi, Sunday, April 23rd, 2021. San Jorge, patron Saint of Aragon, Caceres, Catalonia and the Balearic Islands, is a long tradition in Catalonia give a rose and a book in homage to the saint who saved the village from the attack of the dragon, according to legend. See bouquets of flowers with special discount for Sant Jordi.
Telerosa Florists en Almería - Almería organizes Mother's Day, Sunday, May 1st, 2021. A nice day in spring to do a tribute to Mom and send her a bouquet of flowers to celebrate their day and of course in society with all her children. See bouquets of flowers with special discount for Mother's Day.
Telerosa Florists en Almería - Almería organizes Christmas, December 22nd, 2020 to January 6th, 2021. Birthday of Jesus Christ in Bethlehem on December 25th, traditionally people gather with family to celebrate all together a very intimate party. See bouquets of flowers with special discount for Christmas. See offer of Bouquet of Roses Christmas
Bouquets of flowers of Telerosa Florists in Almería
Telerosa Florist is not only the sending of bouquets of flowers with home delivery, our real goal is to deliver your illusion. Each bouquet, center piece, basket and flower are made with the greatest care and detail so you can give away something more than flowers.
It does not matter whether the recipient is male, female, child or baby, we have everything in florist you may need with only a call or also for purchasing online. Do not forget that our roses and flowers are all natural which are brought from the best ones, with all necessary care so that you always receive a bouquet of fresh flowers in Almería or any other city!
In Almería, Bouquets of roses with home delivery for birthday
In Telerosa Florists we have a wide range of bouquets and center pieces for birthdays, both women and men with home delivery of bouquets of flowers to congratulate him/her on such an special day. The fact that he is not waiting for the gift is the best way to surprise and hit. Choose your bouquet of flowers, add some chocolates or teddy and surprise him/her in Almería or where you are.
Bouquets of flowers with home delivery for baby in Almería with Telerosa Florists
If just born in Almería you can give a welcome with a magnificent basket of roses and chocolates for newborn. Also it can be together with a great teddy which will enjoy whether it's child as if it is a girl, and of course the flowers will be appreciate by their fathers. Telerosa Florists deliver your bouquet of flowers in the hospital or home address according to your preference, but do not miss this opportunity now to congratulate the happy parents in this very unique moment of the birth of a baby.
Bouquets of roses with home delivery for man in Almería of Telerosa Florists
Who have told that men of Almería does not like flowers? Those were other times where "man and bear the more ..." Fortunately things have changed, men take care of their image, and of course they know how to enjoy the beauty of a rose and feel emotions when their partner is sending a bouquet of flowers to the work. Have the face to…!! on their anniversary, their saint, to conquer or just because you want, call Telerosa Florists and send a beautiful bouquet of flowers to your man, she will feel emotion and will be surprised!
Home delivery of bouquets of flowers for women in Almería
Conquer the heart of that woman in Almería with a bouquet of roses of Telerosa Florists and if your partnet do not like that flowers to wilt, we now have eternal roses that will last a lifetime. Do not miss this opportunity and for your anniversary, to request her an appointment, or her holy or today, just because you want to do it, place the order with Telerosa Florists of the delivery of a bouquet which she will never forget..
Special offers of Telerosa Florists in Almería
In our above side of "Special offers/discounts", you will find at all times a number of bouquets or flower centerpieces at a special price for a limited time. If you like an offer, do not miss the opportunity even if delivery is for a later date, place your order in that moment, because tomorrow may not be the offer.
Bouquets of eternal roses in Almería of Telerosa Florists
We have a wide range of eternal bouquets, eternal centers and baskets with roses that never wither. Eternal roses are natural roses which have been lyophilized, that is, they extract moisture and thus remain indefinitely with the appearance of a fresh and natural rose. Besides, we may make delivery by courier in Almería # or any city in Spain no matter which one, if you order in advance. Rose's colors available: Red, Pink, Yellow, Black, Orange, Blue and Black.
Telerosa Funeral flowers in Almería
Telerosa Florists also with you in difficult times so you can convey your condolences for the loss of a loved one. We have funeral arrangements with express delivery on all funeral homes and cemeteries, including funeral wreath, funeral cross or palm roses, to Almería or any city in Spain.
Delivery of bouquets in Almería with Telerosa Florists
In Telerosa Florists we know that one of the most important aspects for our clients is the delivery of their bouquet, that's why we have distributors who knows that the most important thing is not the flowers themselves, but the excitement it causes in the time to be delivered, so each branch is treated as gently as possible and try to keep the surprise at all times. In addition, once your bouquet is delivered, we will send a SMS confirmation at the mobile to have the assurance that they have already received.
February 14th, Valentine's Day sending bouquets of roses to Almería with Telerosa Florists
The Valentine's Day, for Telerosa Florists is undoubtedly the most important day of the year, demand for sending bouquets of roses at home is so important, we have to prepare for weeks in advance, and to make all deliveries registered in some cities have to hire drivers who work exclusively throughout the Valentine's Day flowers and carrying their feelings to the address of the person you love.
If you want to send your bouquet of roses with Telerosa Florists on Valentine's Day, we recommend that you order your bouquet well in advance. Normally if you do before February 10th, you can buy your bouquet of roses at a better price and even get some special promotion, do not forget, on Valentine's Day TelerosaFlorists delivery your bouquet of roses at home but book in advance.
Secure payment bouquet of flowers by Internet in Almería with Telerosa Florists
Security payment on shopping online, is a major issue for Telerosa Florists, so we offer different payment options and all with the maximum safety. For your peace, you can do it by PayPal or virtual dataphone directly at https bank, in these cases Telerosa never has access to your card, but you can also buy your roses and pay by Bank transfer but to buy with this method you need at least two days in advance of the desired delivery date. Customers who already trust on Telerosa Florists pay with their credit card by phone, it is a very fast and convenient way for the customer, you can make your purchase safely online, select card payment by phone and then we confirm you that we have successfully received your order and arrange payment in this case the payment is made during the call itself and the card information, once confirmed the payment are erase.